133 N. Erie St.
The original Caesars opened in the mid-1970s. It was owned by Joseph C. Wicks and located in the 100 block of Erie Street between Monroe Street and Jefferson Avenue between the International Health Studio and the Carl H. Blank Beauty Salon. Caeser's relocated to 725 Jefferson in the mid-1990s, moving into the old Burt's Theatre building, a Venetian inspired playhouse, at Jefferson and Ontario Streets.
Joseph Wicks
Joseph C. Wicks was born in 1941 in Warren, Ohio. After four years of service on the original crew of the USS Enterprise in the United States Navy, he returned to Ohio to open several bars and restaurants. Wicks and his partner, a man who performed on stage as Denise Michaels, helped to develop an LGBTQ entertainment scene in downtown Toledo.

Wicks was not just a businessman, he was a man with vision and imagination, bringing the first disco and lighted dance floor to Toledo. Among his many accomplished ventures in the bar trade were: Camel Lot, Camel Lot Complex, Freudian Slip-Up, The Warehouse, Hooterville Station, and Caesar's Show Bar. Each establishment catered to the varied interests and demands of patrons, both gay and straight. His restaurant undertakings included the main street restaurant and deli, Auntie Em's, Brenda's, Joe's, and The Arlington.

Caesar's Show Bar, one of Toledo's longest-running gay bars, opened at its original location on 133 Erie Street and eventually moved to its more famous location on Jefferson Avenue and Ontario Street. While Wicks did not normally wear drag, he promoted Caesar's by dressing in costume as Cleopatra and holding a sign that stated, "Cleopatra Prefers Caesar." Shortly after opening, Caesar's Show Bar became a prominent nightspot for the LGBTQ community, offering three drag shows a night, six days a week, in addition to hosting the "Miss Glass Citi" pageant. Charity performances were also a key part of the bar's identity; Caesar's was a key participant in the annual "Sex, Drag, and Rock and Roll" fundraiser for HIV/AIDS awareness programs for Planned Parenthood and David's House Compassion in the 1990s and 2000s.

Wicks continued to run Caesar's successfully until 2005, when a TARTA bus crashed into the front of the building. Unfortunately, Wicks was unable to collect enough money to fully repair the building. After being diagnosed with multiple cancers, he agreed to partner with another business to eventually take full ownership, resulting in Caesar's closing in early 2010.

Wicks was a compassionate and charitable man. In an interview for the Toledo Blade, a friend stated Wicks would help anyone in need, taking in people who had nowhere else to stay, or helping those in need out of trouble. Wicks's sister, Peg Lizardy explained, "If they were hungry, he'd feed them. If they didn't have a place to stay, he'd open up his house and let them stay there as long as they needed to. He was a very, very generous person."

Joseph Wicks died on Monday April 19, 2010 at age 68. After his death, members of the Toledo LGBTQ community campaigned to rededicate a street in Toledo renamed in Wicks's honor, but the project was ultimately defeated. – found here.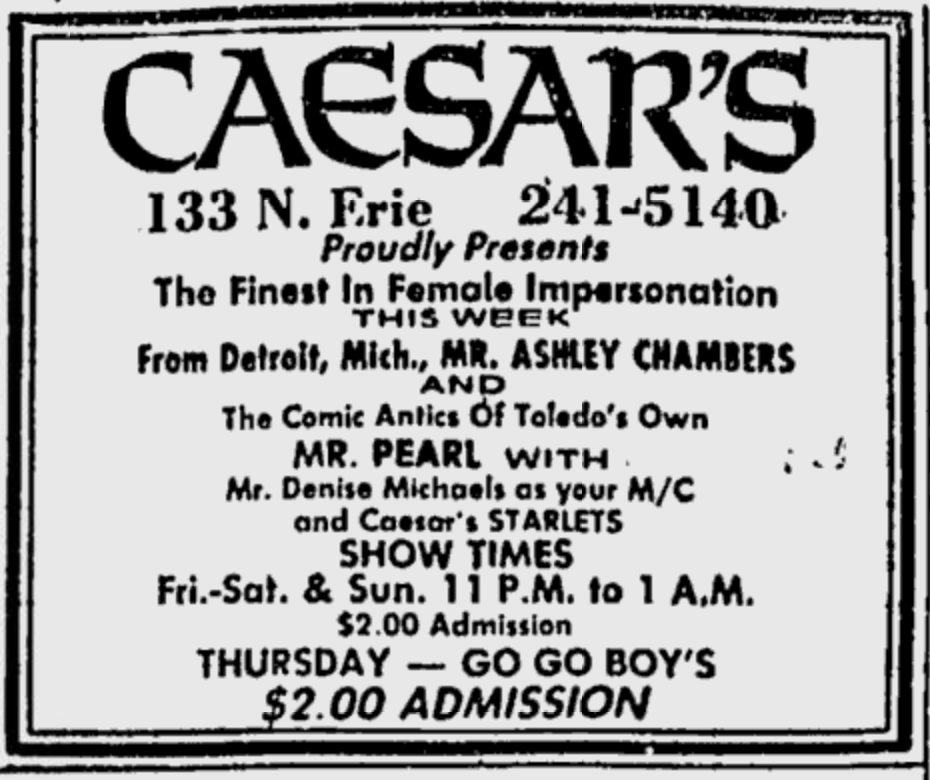 https://www.toledoblade.com/news/deaths/2010/04/23/Flamboyant-businessman-ran-Caesar-s/stories/201004230030
Caesars Show Bar, 725 Jefferson (1996-2010)
"In 2005, a Toledo Area Regional Transit Authority bus that swerved to avoid an errant motorist on Jefferson careened into the Caeser's building facade. In 2009 a roof cornice partially collapsed, littering the sidewalk with debris. The bar stayed open after the roof incident, but early the following year the city shut it down for numerous code violations. They included blocked exits, dangerous electrical installations, and untested fire-safety systems. It has been vacant ever since, although some repairs have been made to stabilize its exterior." – found here.